The patch cables...
...from DIGITUS® are equipped with a molded anti-kink sleeve with strain relief. In addition, the sleeve has a locking lever protection which prevents kinking of the cables and breaking-off of the locking lever from the connector. Category 8.1 is simply identified by the green colored connectors. The LSZH (Low Smoke Zero Halogen) outer sheath ensures the best fire behaviour and low smoke emission.

TO THE 8.1 CABLES
In order to be able to transmit 25 or 40 Gigabit, shielded twisted-pair cables are used. Due to the shielding, the cabling is better protected against external electromagnetic interference and against crosstalk between the twisted pairs of wires.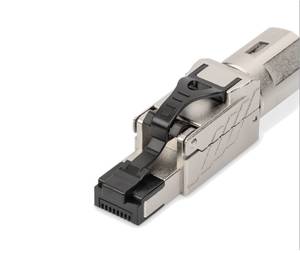 Das S/FTP Installationskabel...
...of category 8 class 2 from DIGITUS
®
is characterized by its cable construction (AWG22/1) and achieves a transmission frequency of up to 2,000 MHz. The halogen-free cable sheath complies with the standards IEC 60332-3-24, FRNC-C, LSZH-3 and CPR Euroclass Dca.
The cable itself is suitable for structured cabling in the secondary and tertiary area according to the standards ISO/IEC 11801, DIN EN 50173 and DIN EN 50288-12-1.
TO THE INSTALLATION CABLE