High-quality and future-proof components
for scalable solutions from DIGITUS®

From servers to peripherals - structured cabling can be implemented seamlessly with technology from DIGITUS® and it is flexible, as the individual systems are also compatible across the board. With this infrastructure, users create the ideal basis for all requirements - even for audio & video applications.


Power over Ethernet - for efficient installation.
Thankfully the state-of-the-art cabling that accounts for the new industry standard IEEE802.3 bt - or 802.3 at - networking of the end devices is made possible with a simultaneous power supply.


Summary/Overview of the PoE Standards





Save additional installation costs for standard power supply!


Power over Ethernet technology is when network devices such as IP cameras, access points, or IP phones are supplied with data and power supply using a single cable together. This technology saves time and expenses while having significant cost reduction during installation. Devices and access points are used where desired without connecting to an outlet, making the system extremely flexible. PoE supply is also intelligent: the system protects devices against overload, under-voltage, or improper installation. Since the introduction of PoE technology in the early 21st century, the use of CAT5/RJ45 technology for simultaneous transmission of power and data over the network has become increasingly widespread.

Your advantages

✓ SCALABLE - Can be adapted to the environment using switches and converters
✓ FUTURE-PROOF - The system grows with your requirements
✓ CENTRALLY ACCESSIBLE - Central management of the PoE end devices
✓ COST-EFFECTIVE - No additional power supply required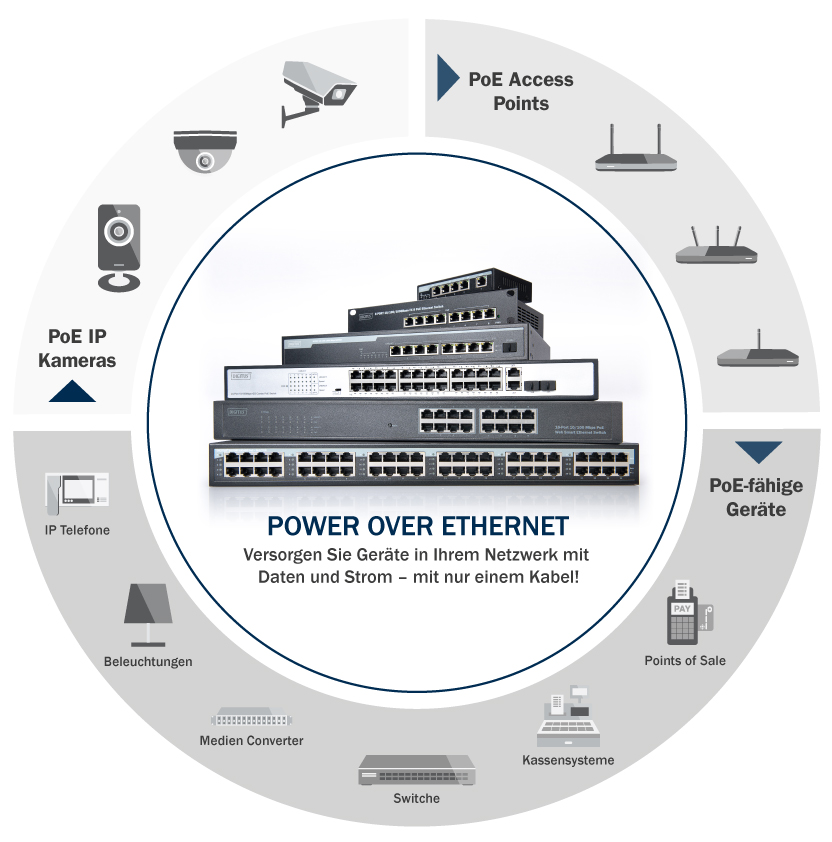 The vertical cabling

For vertical cabling, we recommend fiber optics as the medium between the server room and the floor distributor. Copper cabling, on the other hand, provides an ideal connection to the end device. Using a PoE-capable switch (endspan concept) or PoE injector (midspan concept) in the floor distributor, no additional power supply is required at the end device.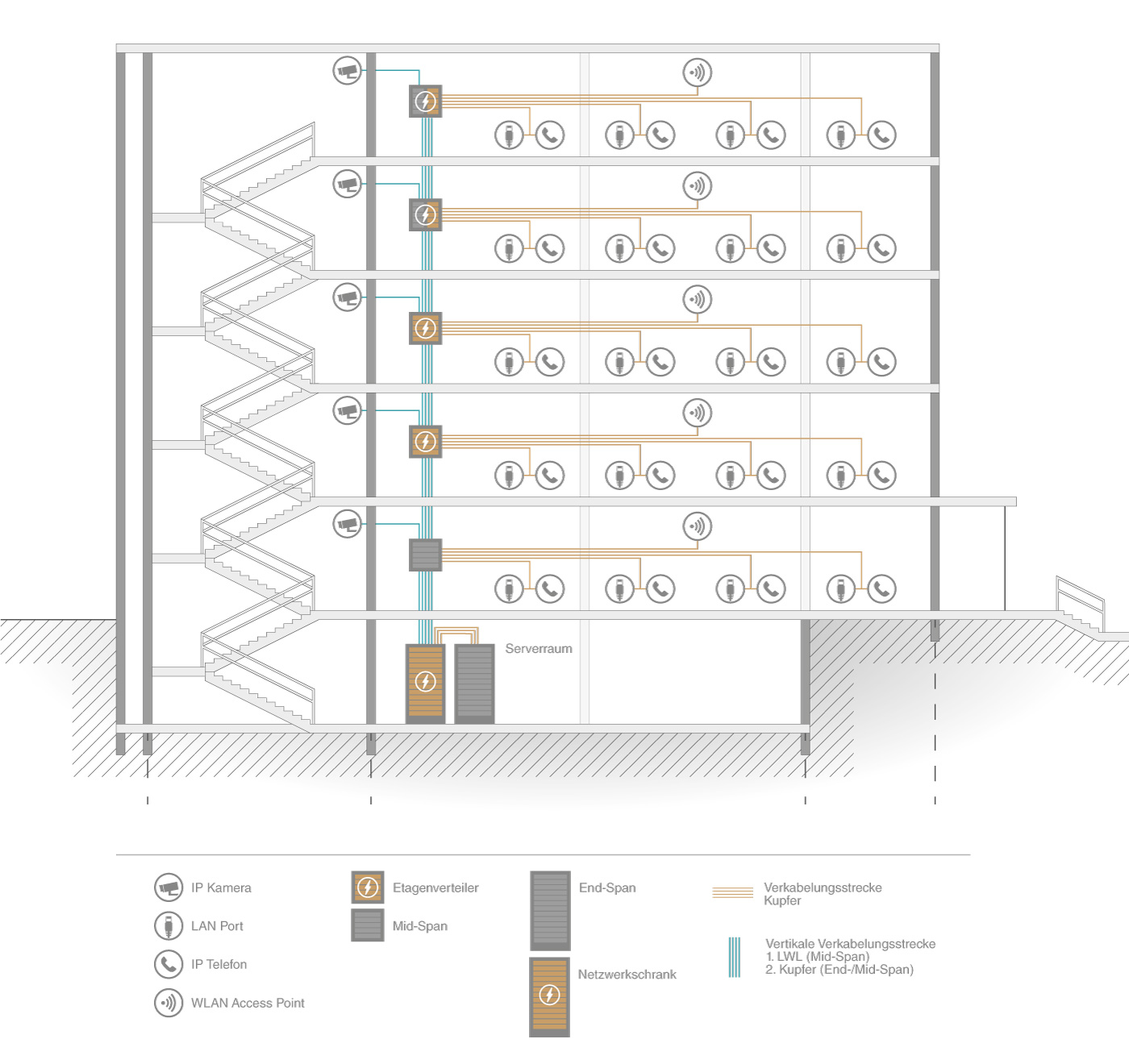 The right solution
for your needs

With this type of cabling, the supply on the individual floors takes place via practical consolidation points. Thanks to the clever combination of fiber optic and copper components, up to 10 Gbit per second (10GBase-T) can be transmitted. Thanks to remote powering, end devices are automatically supplied with power, which simplifies the control and management of the devices. This cabling is the most energy-efficient solution overall and significantly reduces power consumption.
CAT 8 - More than just
a trend for LAN cabling
The category 8.1 copper cabling components from DIGITUS® transmit up to 40 Gigabit per second (24 m) in the Permanent Link over the backbone cabling of the data center. In addition, the copper cabling components transmit 25 Gigabit per second (50 m) in the Permanent Link in accordance with TR 11801 (9909).
A typical application is the cabling of short distances between the racks and network components such as switches. Shielded twisted pair cables are used for this purpose. Due to the shielding, the Cables are better protected against external electromagnetic interference and against crosstalk between the twisted pairs. Category 8 components are compatible with category 6A cables and the RJ45 plug solutions used.
Coordinated audio & video solutions for building technology.

Expand your building infrastructure with signal transmission systems for high-quality audio and video technology. DIGITUS® components designs are for high-resolution presentations, smooth conferences, attractive display advertising, and also for signal distribution over long distances.


With a DIGITUS® video extender, you can transmit brilliant video signals from one screen to others. Extend the maximum length for HDMI cables up to 120m with only one network cable between the transmitter and receiver unit. If you bridge the distance with a DIGITUS® switch, even long-distance connections are possible. Additional KVM functions allow you, for example, to operate a PC or notebook at the transmitter's location from the receiver.


HDBaseT™ - The standard for uncompressed, ultra high-resolution AV signal distribution

HDBaseT™ enables the transmission of audio, video, ethernet, power, control and USB signals using a single cable with an output of up to 100 watts. This makes it possible to replace many cables and connections both in private and commercial areas.
As a member of the Alliance, we exclusively offer solutions with official HDBaseT™ technology for optimal performance in accordance with the latest standards. Discover the product range!

Your advantages:
"5 Play": Simultaneous transmission of all signals

Efficient installation of only one cable
High signal quality with UHD 4K resolution

Range of up to 100 m

Scalable and integrable into existing infrastructure (CAT 5, 6, 7 and RJ45 connectors)

Simple Plug and Play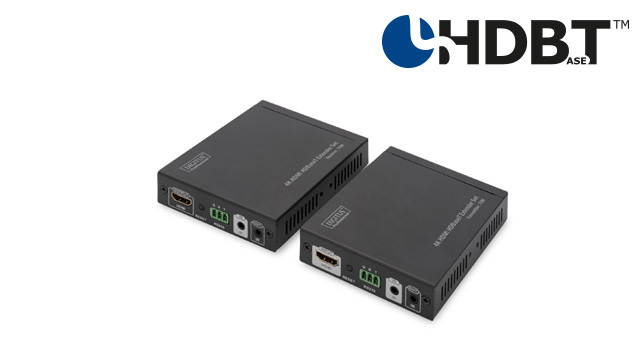 The complete solution

Well thought-out, flexible and future-oriented: With perfectly matched products from DIGITUS® efficient building cabling can be realized by means of a powerful and clean infrastructure - from the server room to the sub-distribution and beyond.