Our audio and video solutions allow you to strategically highlight products, modernize conference rooms, digitalize services and much more. With the right acoustics, you can leave a lasting impression or create the perfect ambience.
The audio and video technology from DIGITUS® is versatile, flexible and scalable. This makes it suitable for a wide range of industries and applications. Get an overview of the areas where AV solutions are currently in high demand and where our technology is already widely used.

With a DIGITUS® Video Extender, you can transfer brilliant video signals from one screen to another. Extend the maximum length for HDMI cables to up to 120 m using just one network cable between the transmitter unit and the receiver unit. If you bridge the gap with a DIGITUS® Switch, even greater distances are possible. Additional KVM functions allow you to use the receiver to operate a PC or notebook located near the transmitter.
Typical application scenarios
Video extenders are used wherever you need to share video signals across large distances. Video signals are frequently emitted directly on multiple screens. If an existing network infrastructure needs to be used, the signal can also be extended via the IP connection.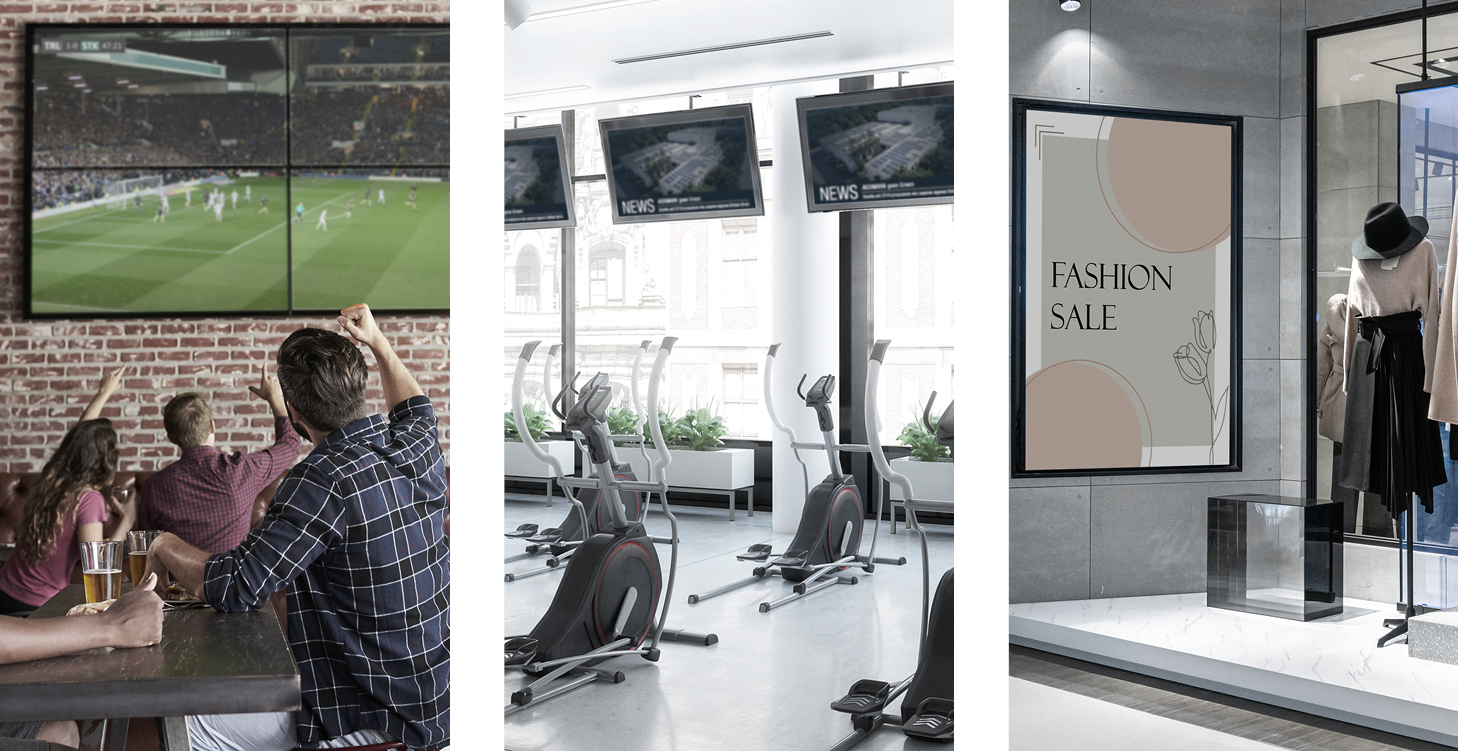 The high-performance HDMI splitters from DIGITUS® distribute the audio and video signals of your HDMI device to multiple screens, displays, TVs or projectors simultaneously in resolutions of up to 4K. The splitters with downscaling function also offer the possibility to play back 4K content on Full HD displays. The 4K DisplayPort splitter from DIGITUS® can also be used to distribute the DisplayPort signal to two DisplayPort output devices.
Typical application scenarios
Splitters make it possible for you to share your device's signal across multiple output devices. For instance, this allows you to mirror your desktop interface or output other video signals. Splitters are the ideal solution for commercial applications such as transmitting live events or product presentations.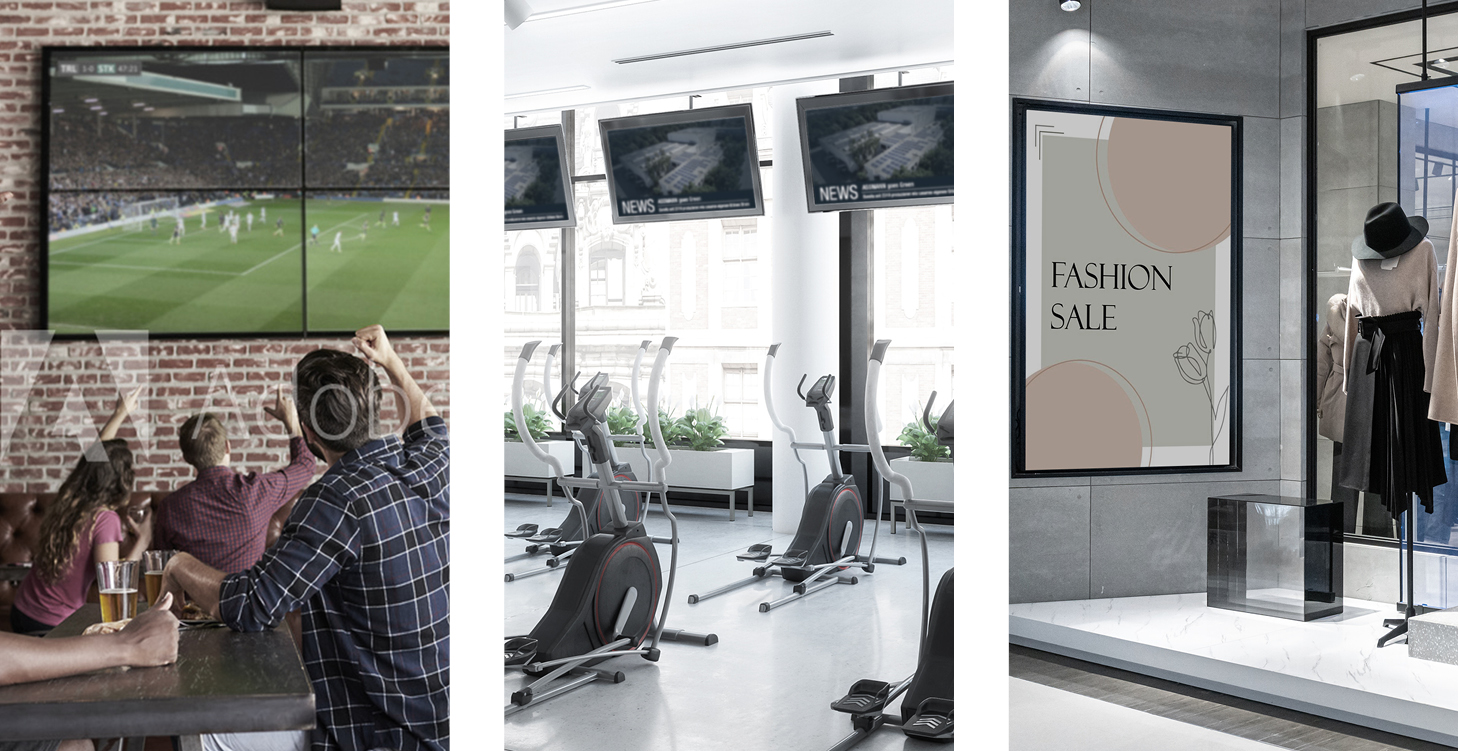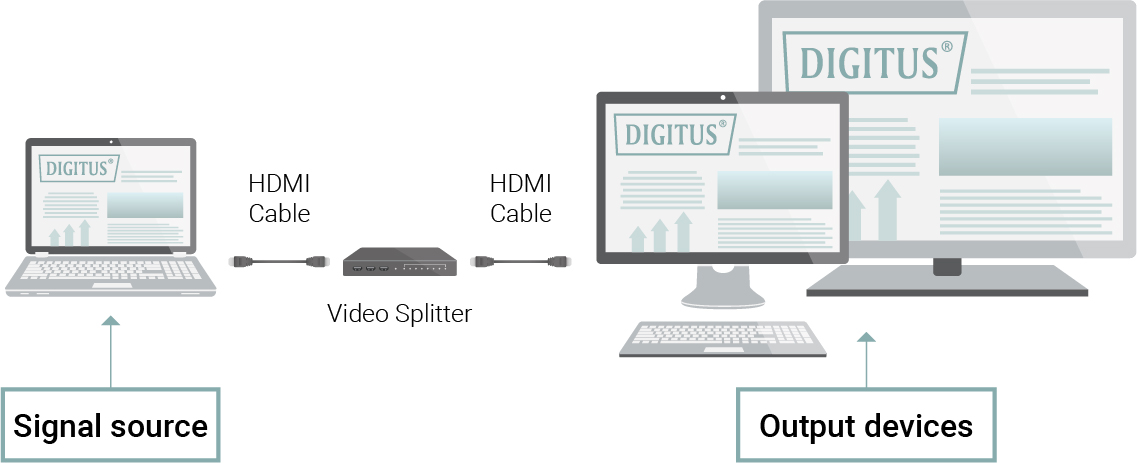 VIDEO MATRIX / TV WALL CONTROLLER

Switch conveniently between signal sources and playback devices via remote control – without the trouble of replugging cables – and distribute the signals more directly to specific output devices. The DIGITUS® 4K HDMI Matrix Switch with Audio Extractor also allows you to uncouple the audio signal from the HDMI signal and reproduce it via external devices such as repeaters, speakers, surround systems or headphones. If you integrate the Matrix Switch into your network and need a clever storage solution, the 19" 4K HDMI Matrix Switch is suitable for installation in racks/network cabinets with a width of 483 mm.

Typical application scenarios
Matrices and TV wall controllers are the ideal solution for comprehensive signal distribution in commercial environments. Wherever content needs to be reproduced dynamically and controlled via remote control, these products offer an ideal degree of flexibility. They also support resolutions of up to 4K.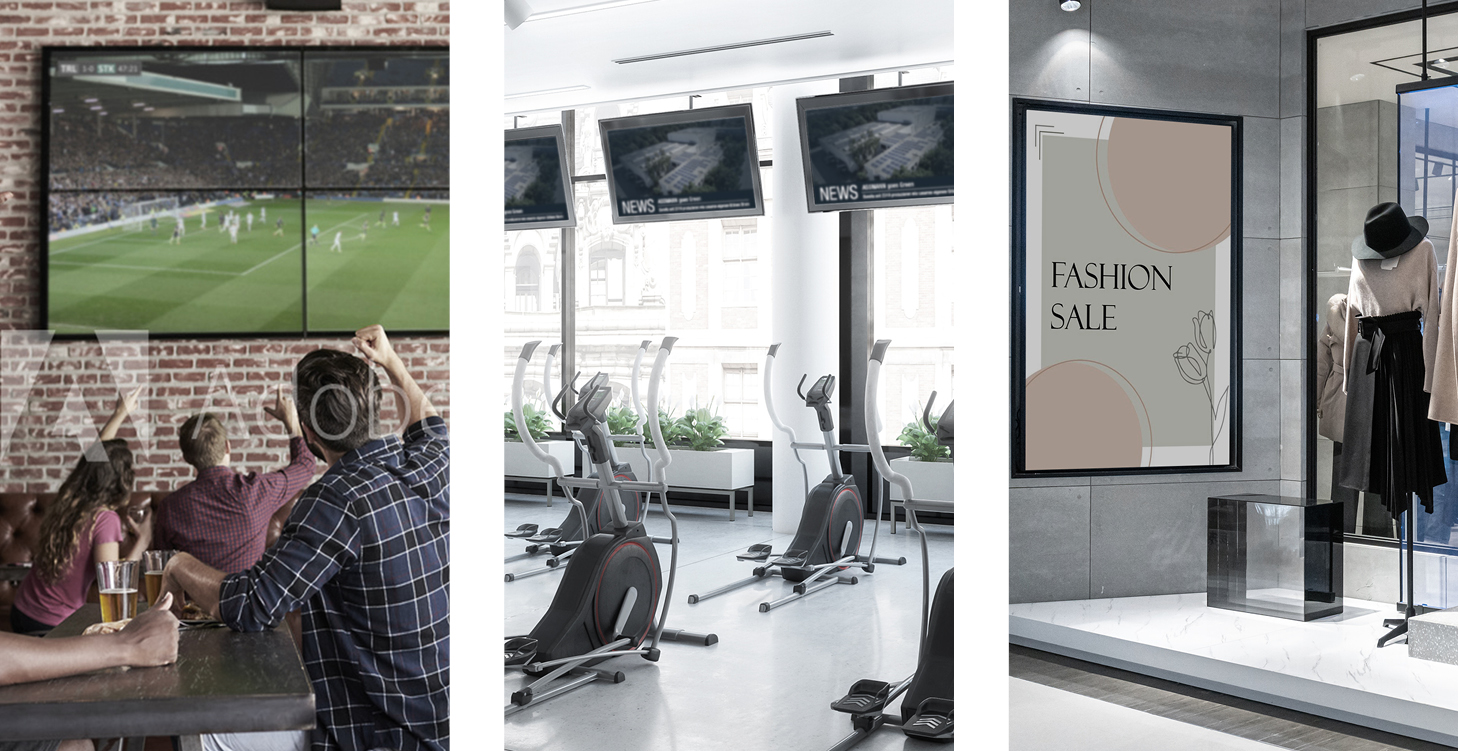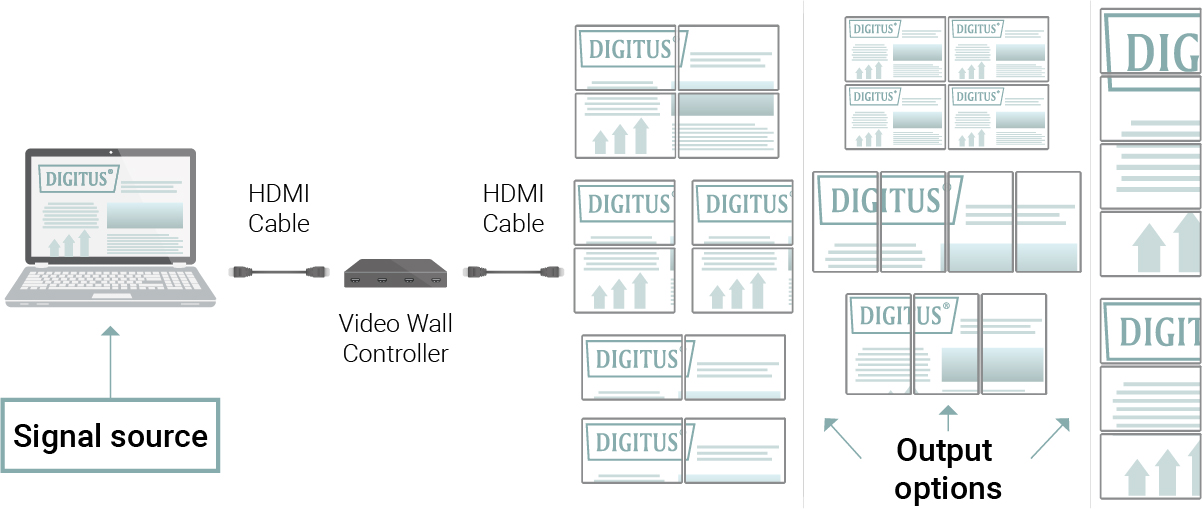 The converters from DIGITUS® make it possible to connect devices with HDMI and VGA connection or to resolve transmission problems with different HDCP versions. For example, you can receive the signal from an HDMI-enabled device and share it on a playback device with a VGA connection, or vice versa. Bridge interfaces or resolve transmission problems with the converter solutions from DIGITUS®. Thanks to simple Plug&Play, no driver installation is necessary.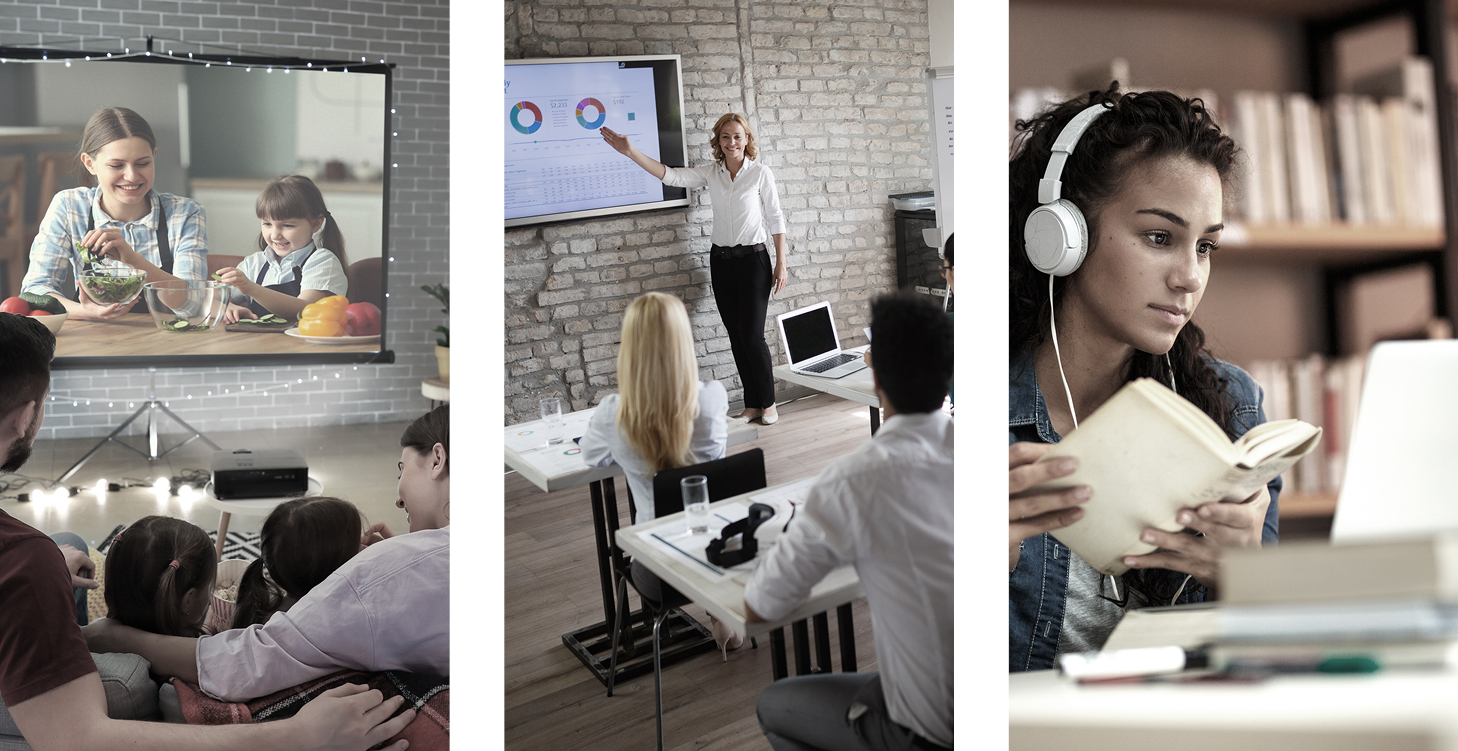 Switch flexibly between different input sources such as a DVD/Blu-Ray player, gaming console, streaming box/stick or digital receiver by pressing a button or via remote control. The switches have been designed for HDMI or VGA applications and are equipped with at least two and at most five input connections. The video signal is emitted on your TV or monitor in optimal quality and with resolutions of up to 4K.


Typical application scenarios
Whenever you want to switch between multiple signal sources on a single screen, for instance if you use different data storage media (CDs, DVDs, USB sticks or similar), a switch is the ideal solution.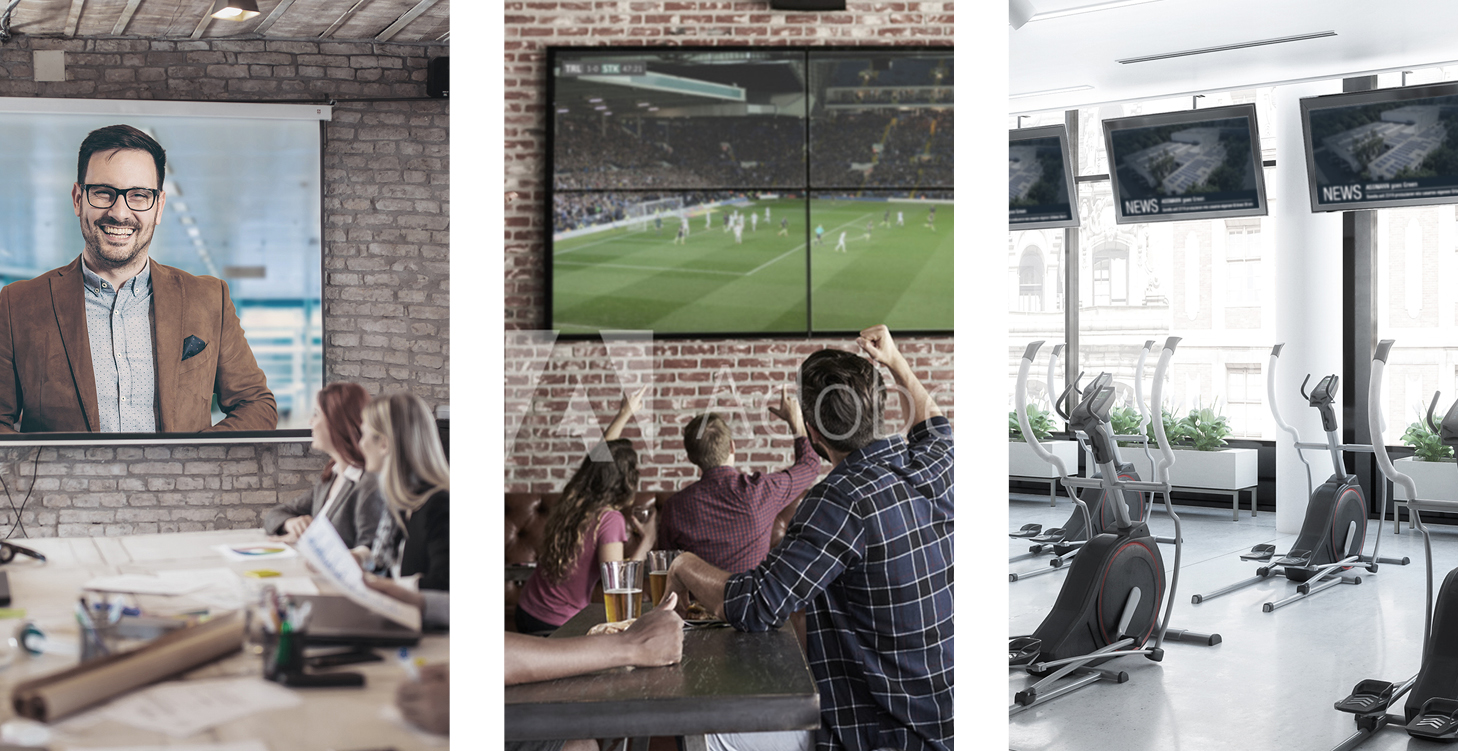 Thanks to the large selection of monitor brackets, a wide range of devices can be mounted on the wall as needed, such as flatscreens, plasma/LED TVs, curved displays or whiteboards. They are easy to install and also provide the option of aligning the mounted devices optimally. They can be inclined, rotated or fixed in place as a video wall.
Typical application scenarios
Wherever output devices such as screens need to be permanently installed, the monitors and TV mounts from DIGITUS® offer an ideal base. Selected brackets can also be equipped for theft protection, which may be advantageous in public institutions or retail. On the other hand, other models are designed for particularly flexible arrangement, which may be necessary in schools or seminar rooms.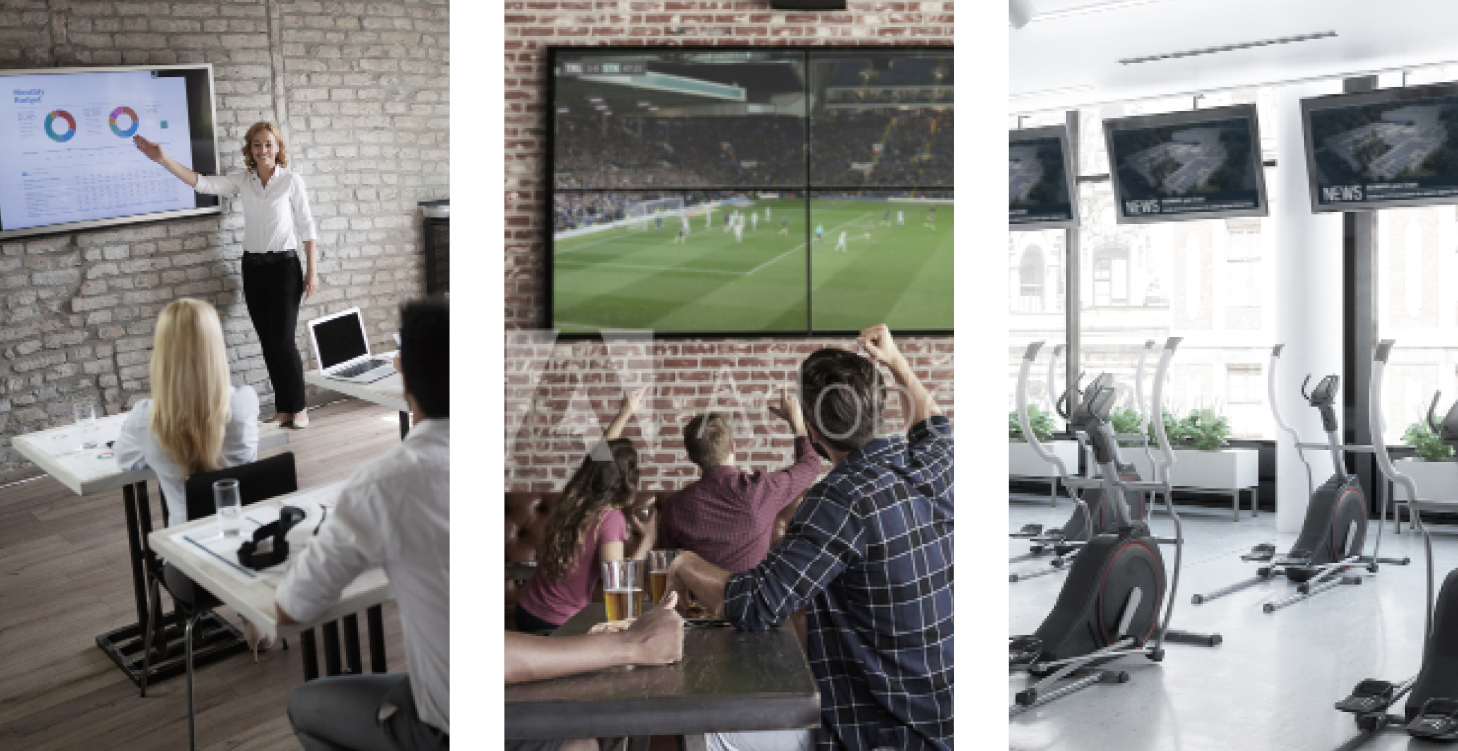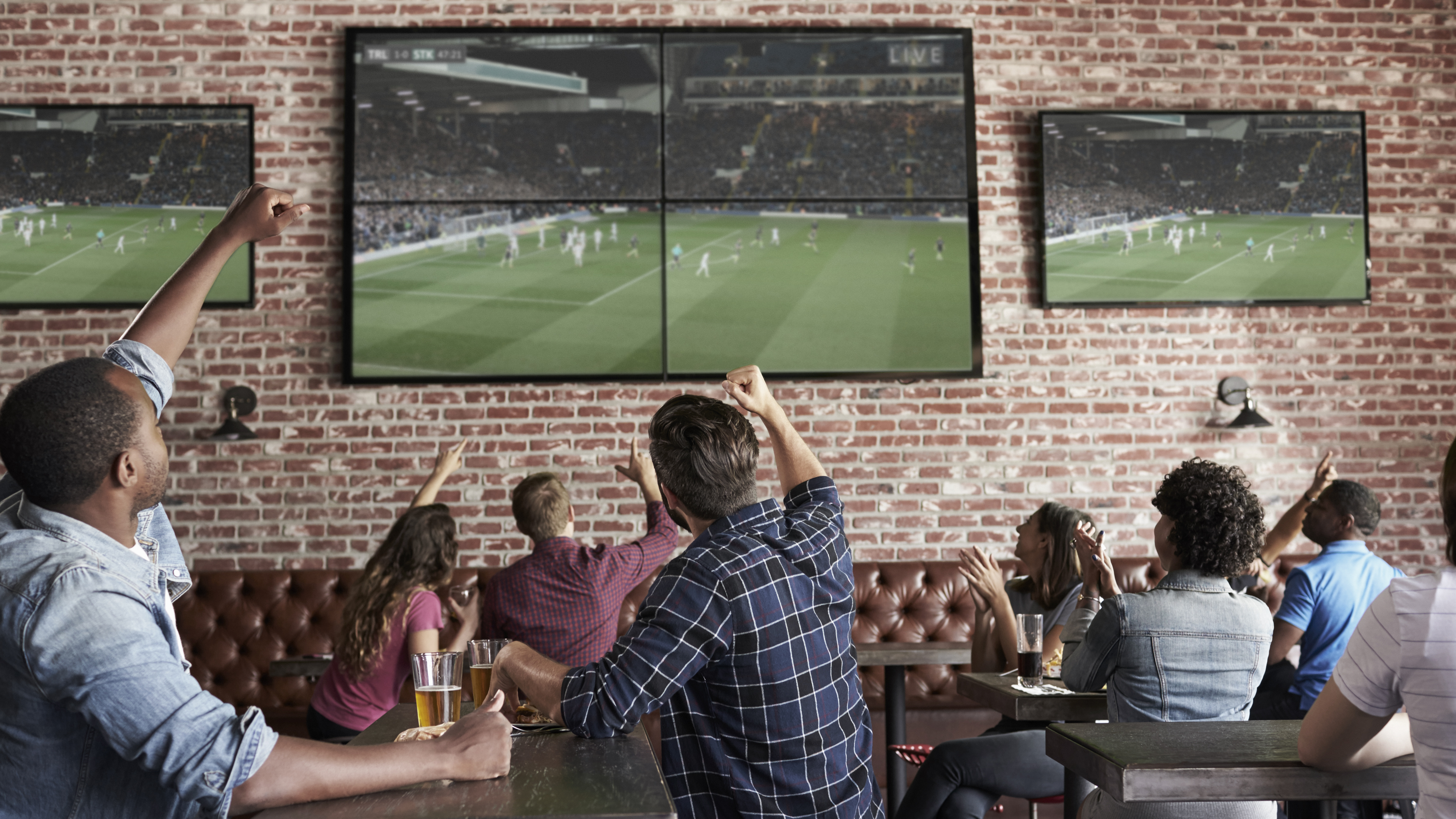 HDBaseT™ - The standard for uncompressed, ultra high-resolution digital connections
HDBaseT™ enables the transmission of audio, video, ethernet, power, control and USB signals using a single cable with an output of up to 100 watts. This makes it possible to replace many cables and connections both in private and commercial areas.
As a member of the Alliance, we exclusively offer solutions with official HDBaseT technology for optimal performance in accordance with the latest standards.
Your advantages:
"5 Play": simultaneous transmission of all signals

Efficient installation with just a single cable

High signal quality with UHD 4K resolution

Range of up to 100 m

Scalable and easy to integrate into the existing infrastructure (CAT 5, 6, 7 and RJ45 plug)

Simple Plug and Play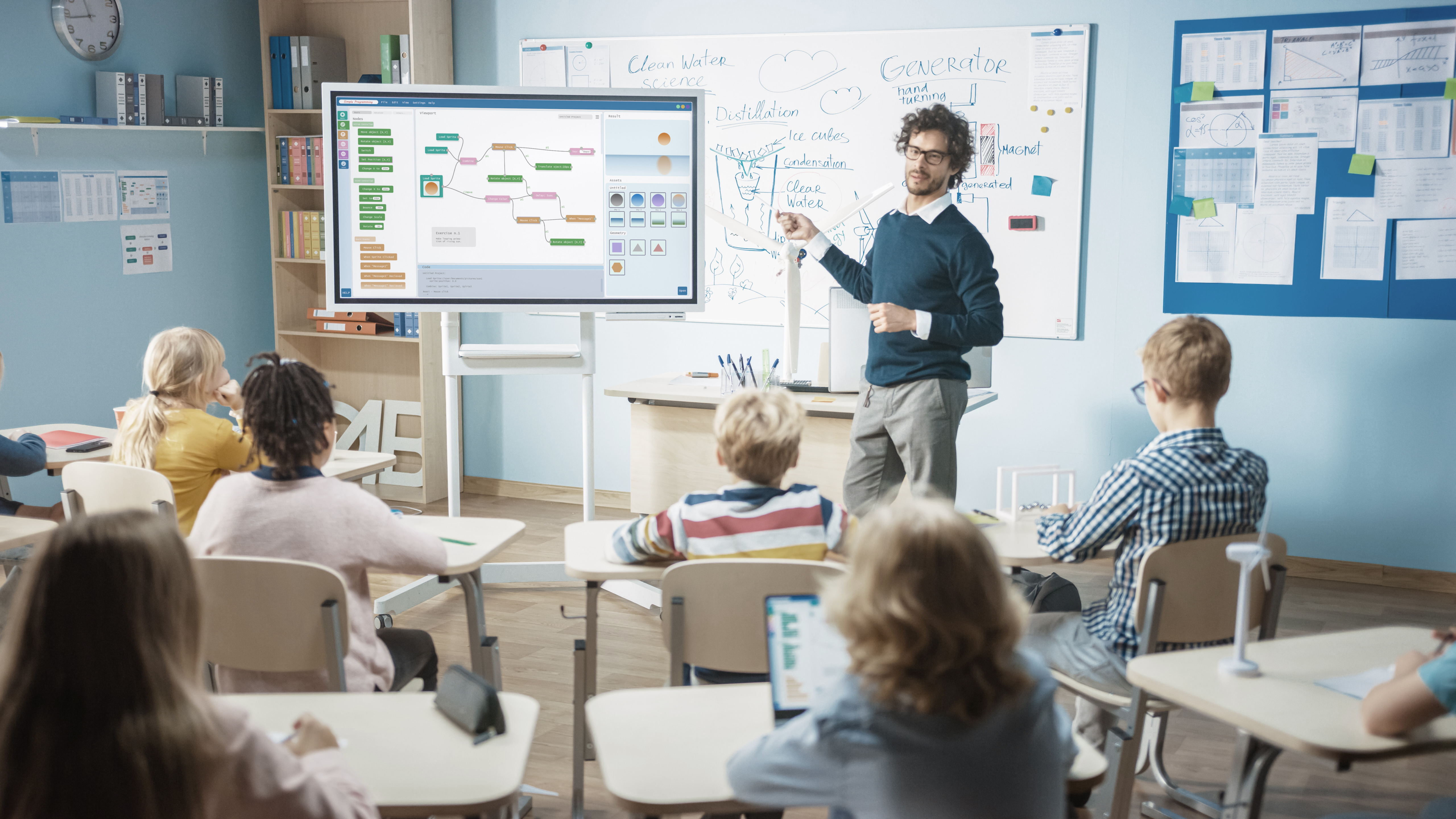 Use a KVM switch to operate two computers with just one monitor, one mouse and one keyboard. By pressing a button or using the remote control included in delivery, you can switch comfortably between the two PCs, sparing you the trouble of replugging all cables. Depending on the model, output to a monitor occurs via the integrated HDMI® or via the DisplayPort™ output. You can also switch between the audio signals for the microphone and speaker. Additional USB ports on the front side give you the option of connecting extra peripheral devices like USB sticks or external hard drives and operating them through both computers.
Typical application scenarios
The KVM switches from DIGITUS® are designed for operating 4K-enabled PCs using a single USB keyboard and mouse combination. Switching flexibly between computers is a popular arrangement for working at home if the same mouse and keyboard are used to operate both a work computer and a personal computer. Thanks to the KVM switch, you can switch at any time by simply pressing a button without the trouble of replugging cables.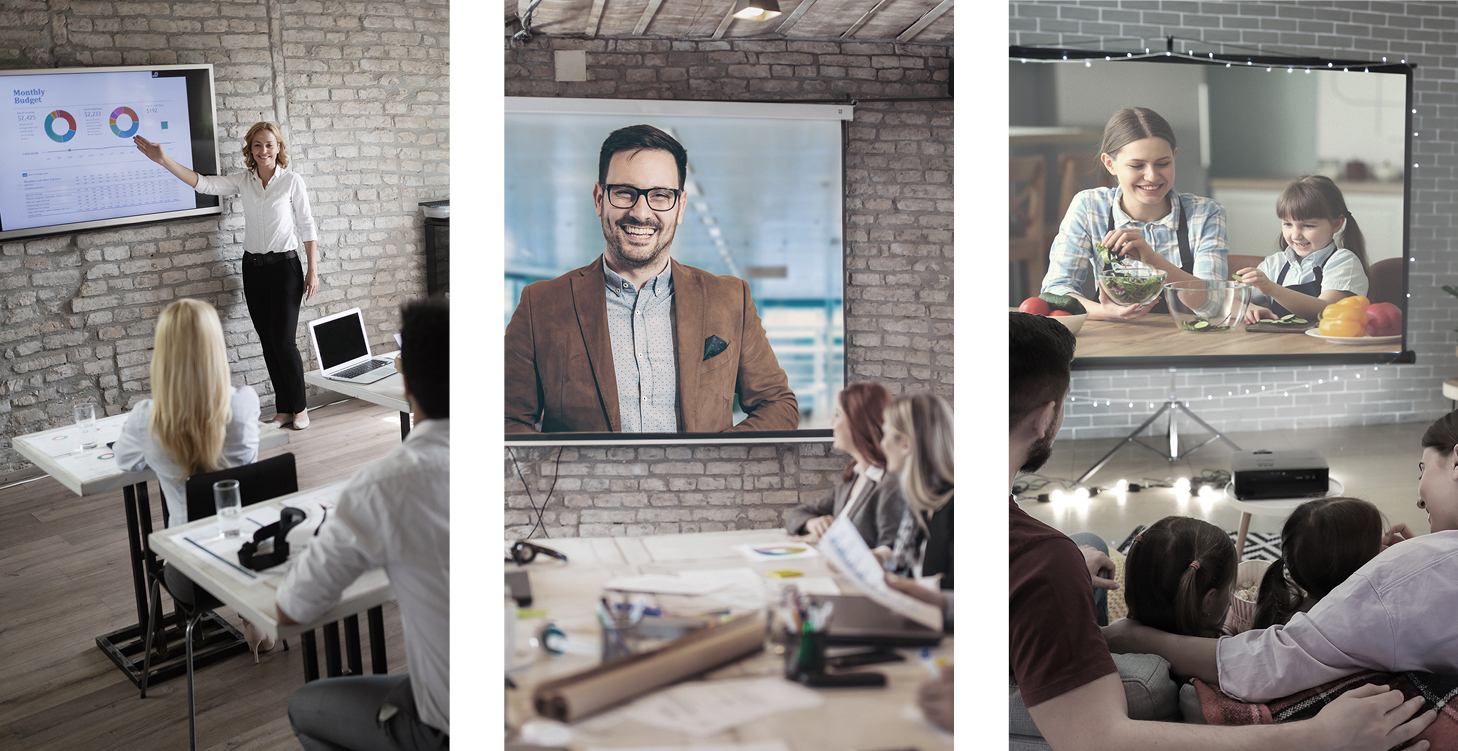 Minimize your cabling work for Wireless Access points, IP phones or any other PoE-enabled device using a PoE switch from DIGITUS
®
. Power over Ethernet technology (PoE) is primarily used when no power supply is available at the place of operation and suitable devices need to be supplied with power simultaneously over the incoming network cable.

Typical application scenarios
A PoE switch can be used for example to supply HDMI splitters with power in order to reduce the installation work for power cables. Since many cameras are already PoE-enabled, switches can be used here as well to optimize the video surveillance concept.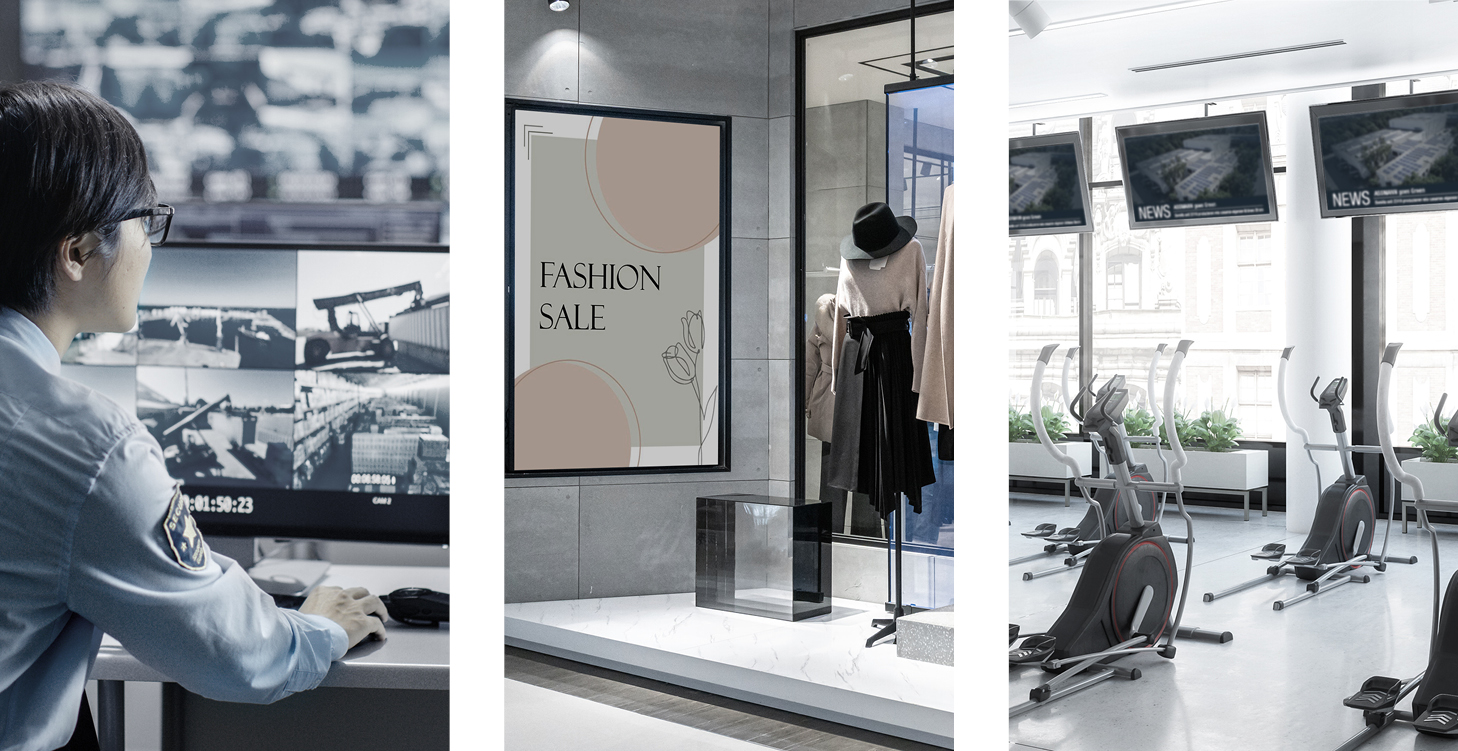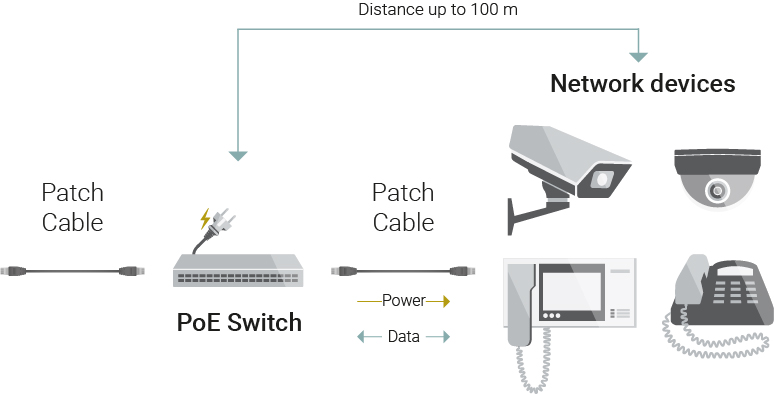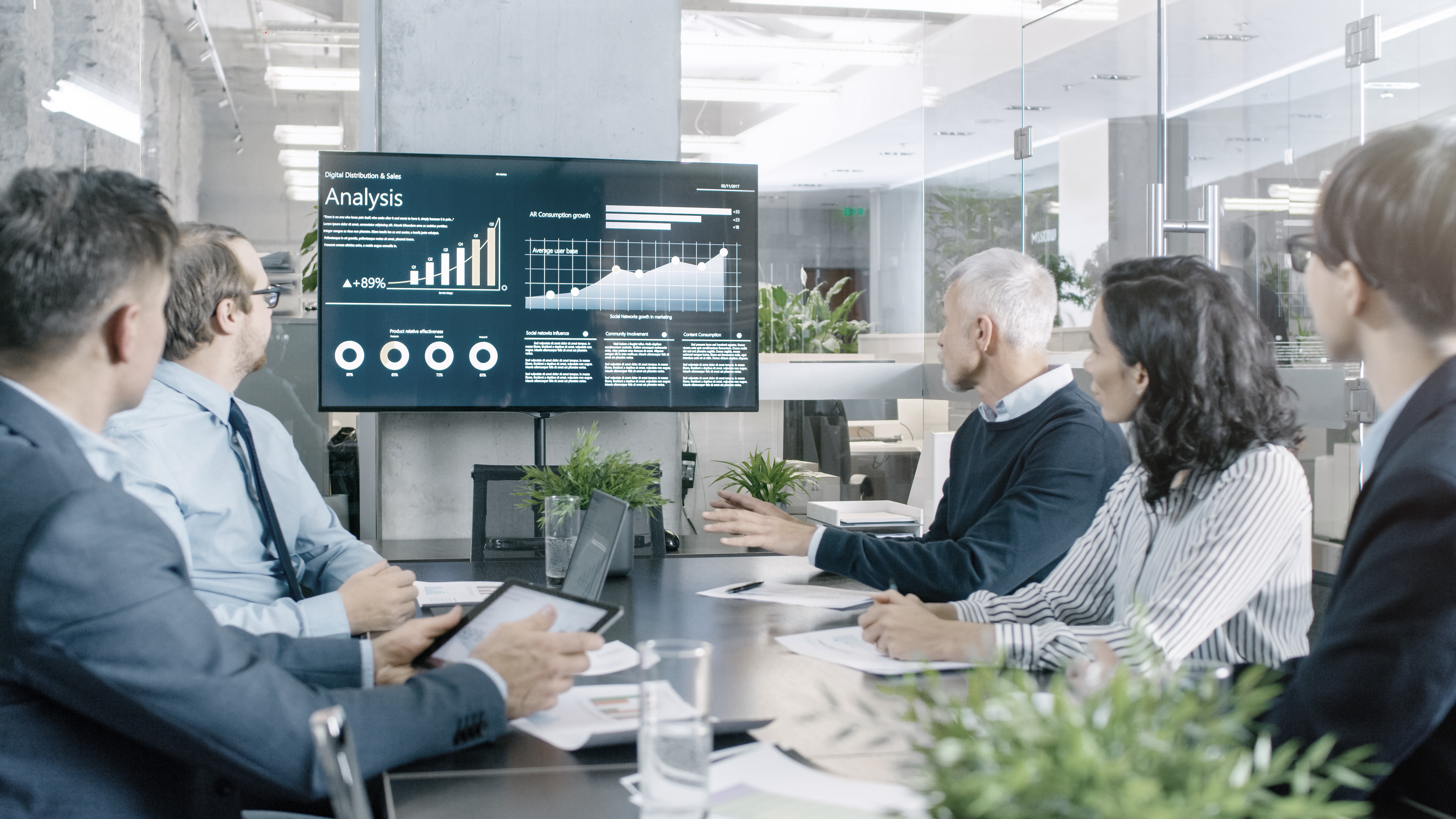 Expand your options by adding more connections with USB-C docking stations. Modern devices often have just a few ports, which is why USB-C docks are the ideal solution for connecting and charging devices or transmitting data. For example, the USB-C™ docking station with wireless video transmission to HDMI or VGA displays offers 8 additional interfaces for your system. The all-round docking station with an enclosure for M.2 NGFF SSDs and 3 graphic interfaces delivers a total of 11 additional connections for notebooks and tablets.

Typical application scenarios
USB-C docking stations are used anywhere additional connections are required. The 8 Port USB-C Dock with Wireless Video Extender also transmits Full HD video signals at distances of up to 10 m. The transmitter and receiver unit elegantly merge into one unit thanks to the integrated magnetic mount. When the connection is terminated, the docking station can be used as a video extender.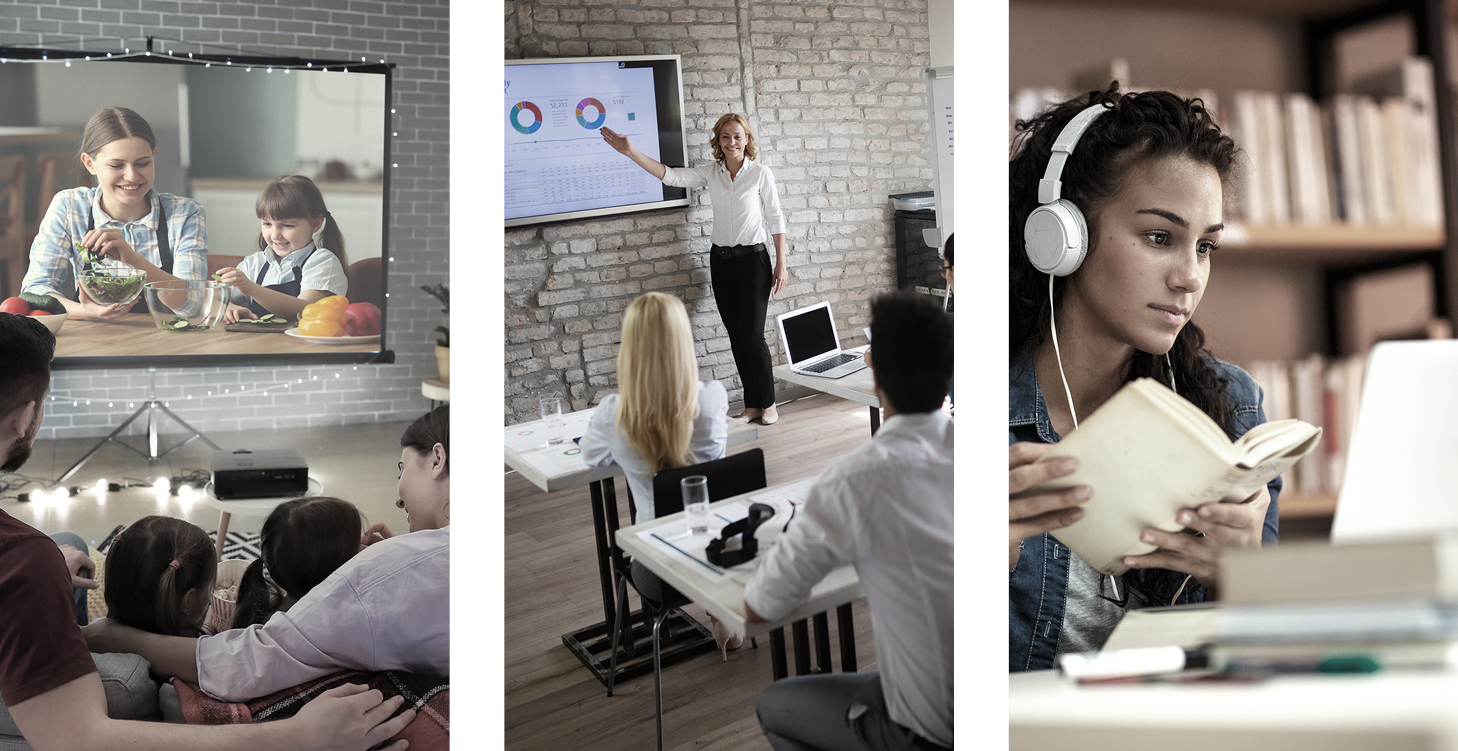 POWER DELIVERY UNIT (PDU)
References
1. Statista, 13.10.2020, Statistics for the catering sector, Link 05/10/2021
2. BHE, 06/2020, Electronic security technology in 2019 shows clear increase in sales, Link 05/10/2021
3. Statista, 11/03/2020, Statics for the retail sector in Germany, Link 05/10/2021
4. Statista, 03/18/2021, Number of facilities in the fitness sector in Germany from 2008 to 2020, Link 05/10/2021
5. Statista, 03/18/2021, Sales in the fitness sector in Germany from 2010 to 2020, Link 05/10/2021
6. DESTATIS, Ausstattung privater Haushalte mit Unterhaltungselektronik - Deutschland, Link 05/10/2021
7. BMBF, DIGITALPAKT SCHULE - What you should know now, Link 05/10/2021
8. Council for Cultural Education, 08/29/2018, Libraries / digitalization / cultural education. Horizont 2018, p. 21, Link 05/10/2021
9. AP Verlag, manage it, 05/11/2020, Digital communication: the path to efficient virtual meetings, Link 05/10/2021