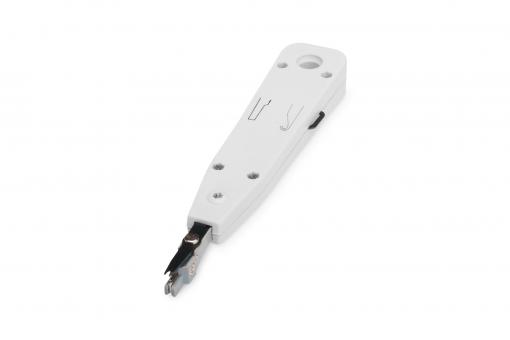 DIGITUS LSA punch tool
Product number: DN-LSA-PT
EAN: 4016032206569
LSA Punch Down Tool
Includes Extraction- and Unlocking Device
Includes Extraction- and Unlocking Device
This tool easily crimps and cuts wires onto the LSA termination head
Delivery incl. synthethic lether carry case
Die Vorgensweise ist zu wiederholen, bis alle 8 Adern eines LAN-Kabels auf der LSA-Leiste eines Patch-Feldes oder einer Netzwerk-Dose angeschlossen sind.
Mit Hilfe des Ausziehhaken und der Entriegelungsklinge können Sie bereits gepatchte Kabel-Adern aus der LSA-Leiste entfernen, wenn Ihnen einmal ein Fehler unterlaufen ist.
Customers who bought this product also bought